Here is my April 2015 entry for 'The best book I read last month'.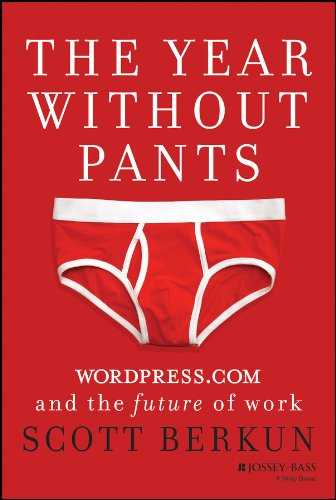 The Year Without Pants: WordPress.com and the Future of Work
by Scott Berkun is my pick for the best book I read in April.
I first heard about this book when listening to the Tim Ferriss interview with Matt Mullenweg of WordPress fame. A couple of days after I finished listening to that podcast, I saw the book in the library "NEW" book shelves and I got it. I quite liked the book.
What's it about: It's a peek into how the company Auttomatic works, and about the people there. Or those who work in big corporations, this might be a refreshing peek on how someone can earn a living. You get to know a little more about Matt Mullenweg and his beliefs. But you also learn some management concepts and ideas,
What I like:
Easy to read. Interesting. It is like a huge book-sized advertisement for working at Auttomattic and I like it. I also liked how Scott explained some management concepts, and the open-source ethos.
But the most valuable thing in this book, for me, was Scott's explanation of how they run projects at Auttomatic. The ideas of smaller, faster projects: faster to implement, faster to fail, faster to improve, the internal processes which they follow at Auttomatic – like writing the support page and announcement first, the challenges of project endings – these are what I can use on my personal one-person projects as well.
The techniques and tricks used in Auttomatic, as this book mentions it, can be extended to you the individual contributor (or a small team) to make yourself prolific, productive and increase the quality work of you work as you define it.
Who should read this:
If you are interested in business, how businesses are run, if you are entrepreneurial minded, if you think you like working from home, then you might find this book interesting. If you are a tinkerer, a creator, someone who has "side projects", this book might very well be useful for you.
The value of the book lies in the fact that it is almost like a Project management, Employee management course for people like me who do things on the side by themselves for the fun of it. Since doing things for fun is definitely not easy, and definitely requires some management and processes.
AT the least, the book is still a fascinating peek into how a very different company than most of us work for works.
Highly recommended
Format:
Kindle EBook – The Year Without Pants
Hardcover – The Year Without Pants
Audiobook – The Year Without Pants
Public Library – Check here to see if it's available in your public library.